Providing opportunties for families to exercise, workout and have fun together...that is how we help our kids learn healthy habits, engage with kids of all ages and start to overcome the epididemic of childhood obesity. The Y is about youth development, healthy living and social responsibility. When families participate at the Y in programs designed for them...the youth in our community have a brighter future.
Classes for April and May will open for registration on Wednesday, March 15th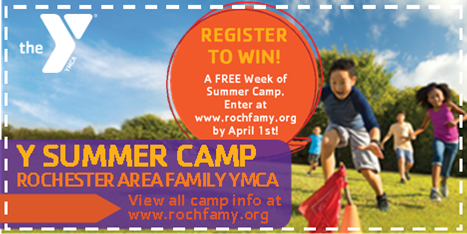 FAMILY PLAYGROUND
Playing, moving and leading by example is the perfect way for a parent or guardian to show a child the importance of exercise...and this class provides that for you! Obstacle courses, rebounding, jump rope, resistance skills are a variety of the ways we play and have fun while working out. An adult is required to accompany children during this class.
Tuesdays, 4:15pm - 4:40pm
April 11th, 18th, 25th, May 2nd, 9th, 16th
Meets in MPR on the 2nd floor
Y Members: free
Community Members: $10
Register for Family Playground
Kids Yoga
Through yoga poses, breathing techniques and meditation/relaxation exercises we can guide youth to a deeper connection with their own bodies. Youth learn physical skills such as strength, balance and flexibility as well as concepts such as cooperation, compassion and gratitude all while having a blast.
Fridays, 4:00pm - 4:30pm
April 7th, 14th, 21st, 28th, May 5th and 12th
Meets in MPR on the 2nd floor
Y Members: $15
Community Members: $30
Kids Dance
This is the ultimate dance-fitness workout for kids 4 - 8 years old. This program features age-appropriate music, moves and games that get kids movin' to the beat. It's all about feeling fearless on the dance floor, reinforcing the idea that it's okay to just be yourself and dance like no one's watching!
Saturday, 9:30am - 10:00am
April 15th, 22nd, 29th, May 6th, 13th, 20th
Meets in Small Group Studio on the 2nd floor
Y Members: $20
Community Members: $25
Pre-Ballet
An introduction to ballet with beginning development of ballet concepts and fundamentals. Floor routines will be offered and fun, creative movements will be encouraged. This class is for 5 - 7 year olds and will be held in MPR on the 2nd floor. Leotard and shoes are required.
Mondays, 4:00pm - 4:30pm
April 10th, 17th, 24th, May 1st, 8th, 15th
Meets in MPR on the 2nd floor
Y Members: $20
Community Members: $25
Family Kung Fu
This fun, family friendly workout consists of flexibility exercises, calisthenics, and single person and partner drills all designed to strengthen and aerobically condition the body, combined with breathing exercises, philosophy, body mechanics and meditation from the Chinese martial arts. Cost includes 6 weeks of classes for the entire family.
Sundays, 2:00pm - 3:00pm
April 9th, 16th, 23rd, 30th, May 14th, 21st (no class on May 7th)
Meets in Small Group Studio on the 2nd floor
Y Members: $60
Community Members: $120
Conqueror's Boxing
Geared towards empowering youth and young adults in the Rochetser community. This program is more than just boxing and provides specific training related to faith, family, fitness and future.
Details:
Tuesdays and Thursdays, 5pm - 7:30pm
For more information, visit the Conqueror's Boxing website.