Lifeguard Training/American Red Cross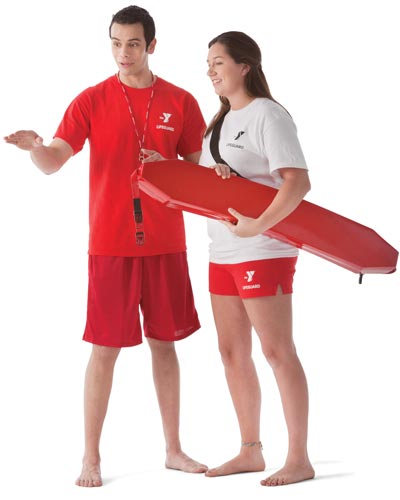 Course candidates will become American Red Cross certified lifeguards by gaining the necessary skills needed to prevent, recognize and respond to aquatic emergencies.
Prerequisites: swim 300 yards (non-stop swimming) of front crawl and breaststroke; swim 20 yards, perform a surface dive 9 feet to retrieve a 10 pound brick, and swim back holding the brick on top of the water (in under 1 minute 40 seconds); and tread water without using hands for 2 minutes.
Participants must have a passing score of 80% or better on all exams and pass the final skill scenarios in order to receive certifications. The course fee includes CPR/AED, First Aid, and Lifeguard Training. If certification requirements are not met, certification will not be awarded and no refund will be given. All participants must attend ALL of the classes listed in the session.
Class cancellations and facility closures will be shared through the Y's mobile app. Please download the app and allow notifications for programs, general information, and schedules. If a class is cancelled due to low enrollment you will be notified prior to the start of the class and a refund for class fees will be issued.

Everyone entering the Rochester Area Family YMCA facility must present a photo ID, or have a photo on file at the Welcome Center.
Age 15+ (Maximum 10 students)
Thursday 10/19: 7-8pm (pre-test)
Friday 10/20: 4-9pm
Saturday 10/21: 8am-5pm
Sunday 10/22: 8am-5pm
Monday 10/23: 4-9pm
Y Members: $170
Community Members: $200
Thursday 11/9: 7-8pm (pre-test)
Friday 11/10: 4-9pm
Saturday 11/11: 8am-5pm
Sunday 11/12: 8am-5pm
Monday 11/13: 4-9pm
Y Members: $170
Community Members: $200
Register for Professional Lifeguarding
WSI
This class will provide professional instruction on land and water based techniques to effectively teach swim lessons for infants and adults. All participants must be at least 16 years old.
This will be offered as a Red Cross blended learning class. The students will be responsible for completing online course work and therefore need access to internet. Prerequisites: 25 yards of Freestyle, backstroke, breaststroke, sidestroke, elementary backstroke, and 20 yards of butterfly with good form. You will also need to be able to tread water for 1 minute.
*A refund will not be provided if the person registered does not or is unable to complete the prerequisite skills.
*No current sessions are available*