Are you ready to go swimming? How about building some cool creations with Legos...or mud?
Sand castles, cheer camp, horses and even zombies are part of our fun this year. We can't wait to show you all the games we will be playing and introduce you to some new friends too.
Our Camp Staff will be there, by your side, to be your friend too...help guide you on the paths we will be exploring, the crafts we will be creating and make sure you are safe and with the group while we are on our field trips.
Oh...the field trips! You have to check out the list and see where we are going this summer! (Parents...don't worry...our field trips are part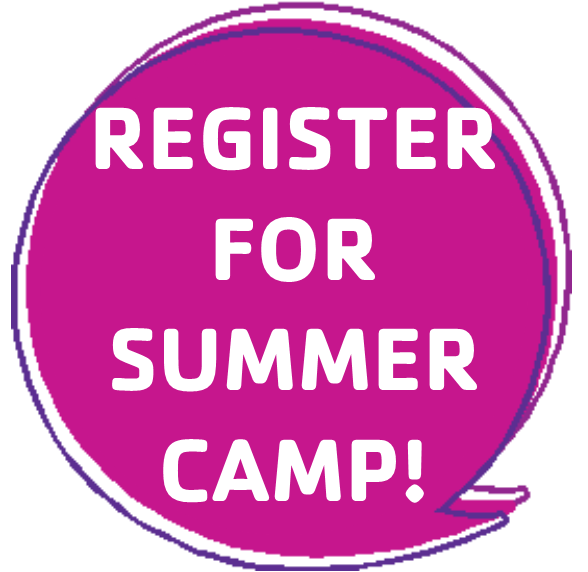 of camp. No extra fees!)
Join us for Summer Camp and enjoy some adventures with us!
Field Trips & 12 Week Camp Schedule
Types of Camps
DISCOVER

- This camp is for kids entering 1st-6th grade. Campers will enjoy fun and exciting activities all week long & have a chance to explore nature, find new talents and make lasting friendships.

FINE ARTS

- This camp is for kids entering 1st-6th grade. Kids will have an opportunity to explore many forms of art! This is the year we explore murals, theater, recycled art, music, nature art, clay & more. Bring some "art clothes" because there will be a few weeks we get messy.

STEM

- The fun of a day camp with an educational focus...that is STEM Camp! Campers will learn about a variety of topics including science, nature, chemistry experiments, LEGO Land, meteorology & rainforests...plus Plants vs. Zombies.

SPORTS

- Virtual games can't compare to the real thing. Play at the Y and have fun as a Y team playing baseball, football, volleyball, karate, basketball, swimming, cheer & dance and more! This camp is designed for kids entering 1st-6th grades. At the Y, kids develop all their skills, from catching and dribbling to teamwork and sportsmanship.

SPECIALTY

- Explore and try out new things as the Y takes you on adventures you will remember for a lifetime. Fishing, rock climbing, horseback riding, golfing, cooking & more fun adventures await you. Ages vary for these camps and spots are limited.

LEADERS IN TRAINING (LIT)

- Summer camp provides a fantastic environment for youth to begin developing their leadership skills. The LIT program is designed for youth entering grades 7-9. LIT's will focus on leadership skills including communication, teamwork, goal-setting, and servant leadership. This camp meets from 8:30am until 4:30pm Monday through Friday.

KINDERGARTEN KAMP

- Our youngest campers are either entering Kindergarten in the fall of 2017 or have completed Kindergarten, but prefer a quieter camp experience. Campers will have special events, arts & crafts, music, movements, swimming and more each week.
COUNSELORS IN TRAINING (CIT) - Learn the skills necessary to be a counselor. The CIT program offers teens the opportunity to develop leadership and program skills that will hopefully lead to a counselor position in the future. The focus is on small group dynamics, communication skills, teamwork and values clarification. CITs help to organize games and activities with the campers and assist the counselors with daily responsibilities.
To apply, interested teens must complete the CIT application online, including references, by May 30, 2017. Upon acceptance, CITs must attend a pre-camp orientation and interview with camp directors. For more information, please email the camp directors at camp@rochfamy.org.
Field Trips
June 14th

- Rohler Rink
June 21st - Whitewater State Park
June 28th - Stages Theater Company featuring Shrek the Musical
July 5th - Mystery Cave and Forestville
July 12th - Minnesota Arboretum
July 19th - Faribault Aquatics Center
July 26th - Rochester Honkers Game
August 2nd - Historic Fort Snelling
August 9th - Science Museum of Minnesota
August 16th - Cascade Meadows
August 23rd - Reptile and Amphibian Museum
August 31st - Nickelodeon Park at the Mall of America
Camp Schedule
Click here to view the 12 week Camp Schedule.
Camp Hours
Pre Care 6:30am - 9:00am
Camp 9:00am - 4:00pm
Post Care 4:00pm - 6:00pm
*afternoon snack provided during Post Care.
**a late fee of $1.00 per minute per child will be applied for any pick up after 6pm.
REGISTER FOR SUMMER CAMP
Registration is on a first-come first-served basis. Many of our specialty camps have limited enrollment so registering early is recommended.
Financial assistance is available for qualified individuals. Applications are available at the Welcome Center at the Y.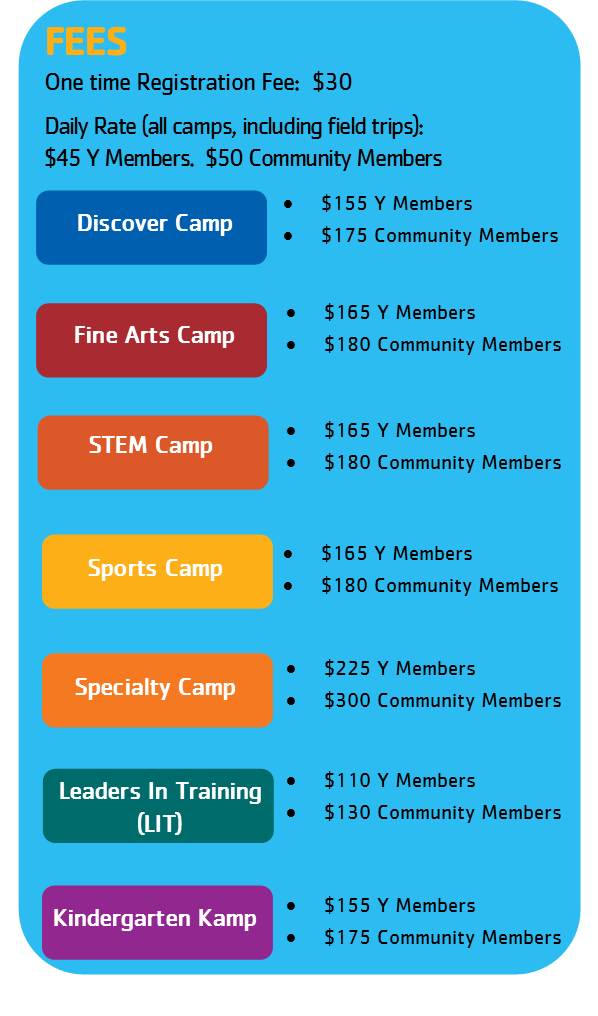 Refund Policy
All schedule changes are subject to a $5 fee. Changes must be completed two weeks prior to the specific week of camp. Changes made within two weeks of the specific week of camp are subject to availability and need approval by camp director.
All deposits are non-refundable. Deposits may be used as credit when transferring camp weeks but will not be credited upon withdrawal.
There will be no pro-rating or reduction of fees based on missed days due to illness.
Medical requests must have an accompanying Doctor note.