---
Program Registration Instructions
Step One
If there is a program that you do not see online, it may only be available for in-house registration or that program may not be currently open for registration.
Please call 507-287-2260 if you do not see a program that you are looking for or if you are having trouble with online registration.
After you find the program you would like to register for, click the REGISTER button!
Step Two
Access your account online to register for the program!
This Account Access page will allow you to get to your online account with us at the Rochester Area Family YMCA.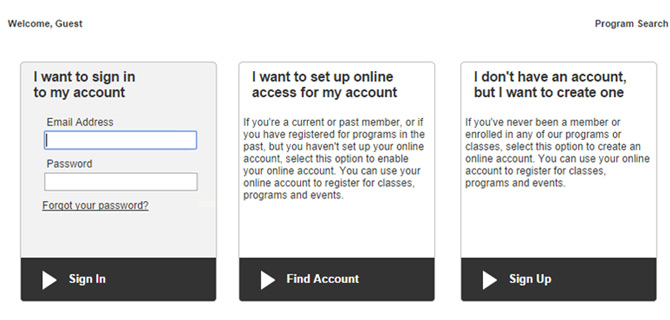 OPTION 1: If you have registered for programs, and know your email and password, please use this to log-in.
OPTION 2: Reset your password. If you do not remember your password, you can easily reset it by entering in your email address in this section.
OPTION 3: Create your Online Account! If you have participated in YMCA programs in the past, you can create an online account be entering this information.
Click Find Me!
If the system does not find you, there is a chance that the information that you have provided may differ from what we have on file. Please contact the YMCA to update your account on file, so that you can finish your online registration.
Common Answers For Online Registration Questions!
If the system cannot find you, don't worry! Call the YMCA Welcome Center and we will make sure the information we have on file is correct. 507-287-2260
You cannot register online for programs if you are entitled to a discount, such as a scholarship program participant, staff discount, or if you want to use a coupon.
The YMCA accepts Visa, Mastercard, Discover, and American Express for online registrations.
Please visit the YMCA if you would like to use another method of payment.
Please visit the YMCA to register if you have an existing credit on your account that you would like to use for this particular registration.
If you do not pay for your program, you will not be enrolled. Payment is required to complete the registration process.